Start a Garden
---
First-time gardeners are encouraged to start small, perhaps with a "kitchen garden" that will offer fresh herbs and a small quantity of fruits and vegetables for use in summer meals.

"Setting aside a small plot near the kitchen or back door or choosing to arrange containers or hanging baskets near a porch or patio may be all that it takes for a beginning gardener to become a more confident gardener," says Evelyn Neier, a Kansas State University Research and Extension horticulturist.

"Lettuce, tomatoes, peppers and herbs such as parsley, basil or rosemary are easy to grow and make flavorful additions to summer menus."

Community Garden

In the U.S., community gardens originated during an economic depression in the 1890s as a way for city residents to grow their own food. Today, community gardens are often organized by churches, neighbors, schools, or groups of employees. Some provide produce for food banks, some rent space for anyone who wants to garden, and others are loose affiliations of neighbors.

To develop a community garden, first organize the group of gardeners who will use the land. Identify a space for the garden and contact the owner (if not a part of the group) to obtain use of the land. Start gathering supplies and developing a garden structure (materials for raised beds, water supply and irrigation, organic matter and fertilizer).

The Community Garden Start-up Guide (.doc) outlines easy steps to building a sustainable community garden, including a sample community garden contract. Spanish language version (.pdf).

You can learn a more on starting and managing a community garden at the American Community Gardening Association's website.


4 Steps to a Quick and Easy Garden

Here are step-by-step instructions for starting a simple vegetable garden, fall or spring :

1) Build a frame for raised garden bed using wood or stacked bricks. Only the siding is needed, as the soil should drain directly into the ground.

2) Fill the frame with a rich soil. Do not use soil that intended for ornamental plants. Read the packaging.

3) Plant seeds on or into soil, depending on which vegetable you're growing. Read the seed packet for instructions.


---

---
4) Water the seeds according to instructions on the seed packet, allowing for good drainage. Do not over-water. Vegetables don't grow well if their roots are wet too often.

Herb Gardens

An herb garden is a good place to begin gardening. Most herbs are easy to grow and tolerant of forgetfulness. Small plots or pots are sufficient and almost any location with at leaset five hours of sunshine a day will suffice.

When planting in containers, choose one that's at least 20 inches in diameter. Put gravel in the bottom of the pot, covering the drainage hole. This will hold in the dirt while allowing excess water to be released. Then fill the container about two thirds full with sterilized potting soil.

Begin planting herbs by loosening the dirt around the roots before placing the plant in the soil. Cover the roots with more soil and then continue to the next plant.
Plant tallest growing plants in the center of the container, with shorter plants grouped around the outside.

Before watering each day, poke a finger into the dirt. If the soil is dry up to an inch below the top, it's time to water. If not, don't water.


Start Seeds for Your Garden Indoors

Starting your own plants from seed can give you a wider choice of cultivars than what you can often find as transplants at the local garden center. It also ensures that you will have healthy plants at the right time to set out.

If you want the very latest types of plants or want to try growing heirloom varieties, you usually have to get the seed from mail-order sources.

Once you have the seeds in hand, however, you have to get them to germinate and grow in order to have useable transplants for the garden. And this is where many gardeners face frustration. Sometimes the seed fails to germinate or, once germinated, it doesn't grow as it should, resulting in poor quality transplants.

Growing plants from seed is not complicated if you know a few basic seed germination tips... continued


---

---
Gardening Resources
---
Community Garden
Herb Gardens
4 Steps to a Quick and Easy Garden
Start Seeds for Your Garden Indoors
Seed For The Garden
Gardening Resources
---

The Winter Harvest Handbook
Year Round Vegetable Production Using Deep Organic Techniques and Unheated Greenhouses
by Eliot Coleman
Chelsea Green Publishing, 2009
---

The Vegetable Gardener's Container Bible
How to Grow a Bounty of Food in Pots, Tubs, and Other Containers
(Kindle Edition)
---

Herbs
---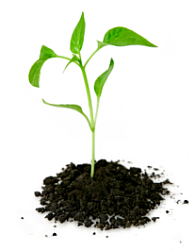 Seed Catalogs
---
---
Choosing and purchasing vegetable seeds is one of the most enjoyable gardening pastimes. Thumbing through colorful catalogs and dreaming of the season's harvest is one way to make winter seem a little warmer. Seed purchased from a dependable seed company will provide a good start toward realizing that vision of bounty. Keep notes about the seeds you purchase - their germination qualities, vigor of plants, tendencies toward insects and disease, etc. From this information, you can determine whether one seed company is not meeting your needs, or whether the varieties you have chosen are unsuitable for your area or gardening style. For example, if powdery mildew is a big problem on squash family plants in your area, the next year, you may want to look for mildew-resistant varieties.