| | |
| --- | --- |
| This engaging text introduces readers to both the heroes and the villains of the Fungi kingdom, from the seductively flavorful chanterelle to the poisonous Death Cap, highlighting their culinary attributes, undesirable characteristics, and complex cultural histories. | |
---




---

Author Greg Marley is a well-known New England mycophile who frequently lectures on wild mushrooms and medicinal plants, leads mushroom expeditions, and writes books on these subjects.

Mushrooms for Health: Medical Secrets of Northeastern Fungi, published in 2009, covered medicinal mushrooms; this one explores the gustatory traits of the fungi and the lore behind them.



The book opens with a primer on wild mushrooming, identifying "The Foolproof Four" groups of edible mushrooms that newcomers should start with because of they are easy to identify and use. "A Few Facts About Edible and Poisonous Mushrooms" is included to encourage caution about the consequences of misidentification.
"Today, Americans generally forage for mushrooms along the aisles of the produce section of the supermarket," Marley explains, "and the more adventurous at outdoor farmer's markets or specialty stores offering wild mushrooms."
A section on "Mushrooms as Food" includes chapters on Chanterelles,

Boletus edulis

(porcini), and The Agaricus Brothers. Recipes for dishes like Mushroom Couscous, Porcini Risotto, Creamy Mushroom Soup and The Perfect Chanterelle Omelet are offered along with tips on preparation and preservation.

"In the United States, most people who collect wild mushrooms for food do it for the unique flavor and textures that mushrooms add to a skillfully prepared dish rather than as a survival source of nutrition," Marley points out.

---




---
Much of the book is a collection of brief chapters devoted to a number of disparate topics. Psychedelics are covered–their chapter on the use, then abuse, and now once again research into the legitimate medical use of hallucinogenic mushrooms, is among the most interesting. Their historic link to religions of several ethnic groups around the world throughout history adds to their mystique.

The remaining chapters cover fungi in the ecosystem, truffles, bioluminescence, fairy rings—which mushrooms make them and why (spoiler alert: it may not really be due to fairies dancing on the lawn after dark!)–and humongous fungi, the honey mushrooms.
---
---
>
---

Parasol Mushroom
poster

---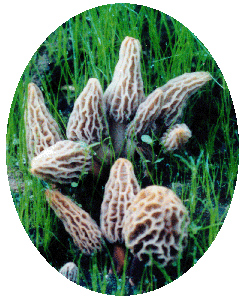 Mushrooms
Farmer's Market Online
---
---
---